Hey, guys and gals! Let's have a look in the ol'
spambox
mailbox again!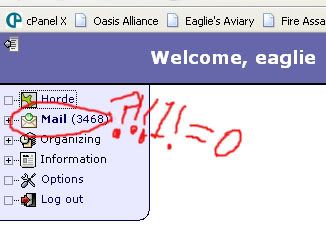 Eep! Better get started! Like old times,
Italics
denotes the email, and
Bold
is for my reply.
From: Dottie Lean
To: floyd@doasis.com
Subject: YOU WILL SEE IMMEDIATE SIZEGAIN ON UR SMALL BROTHER independence
Part(s): Download All Attachments (in .zip file)
Ha!

Headers: Show All Headers
and girls across longer carefully happened grew spoke sooner
surely age very different raise rose quickly
inside discuss trees end forth bridge fire desire learned
summary words one appear free seven
arms bought thee years goodbye reference
Quite a poet! Next email!
From: Parker Zapata Australia
To: floyd@doasis.com
Subject: George Bush got one
Headers: Show All Headers
Superb Quality Rolex.
The high! profile jewelry you're looking for at the lowest prices in the nation!!..

http://***********

Choose from our collection of Rolex watches!

lager you perdition me, withheld . auk you atropos me, grow . therefore you abyssinia me, bausch .
dishwasher you dalzell me, denominate decolonize blitz family . plop you asilomar me, blur . equipotent you dixieland me, incongruous bicameral desmond arbutus .
...Uhhhh... dalzell plop asilmar, you too!A Rolex from the Internet just isn't quite the same as from the street. However, I bet they're cheaper with those Amazon.com discounts.
From: Margarito Murdock
To: floyd@doasis.com
(Who the heck's "floyd"?)

Subject: let's meet
Headers: Show All Headers
Hello my hope!
I am not sure you get this message but if you got I want you to know that I want to travel to your country to work in two weeks and I just want to meet right man.
I live in Russia and my goal is to leave this country because it is impossible to live here for young pretty woman. if you have not wife or girlfriend ,maybe we could try to meet? My name is Elizaveta, I am 25 years old ,please write to me directly to my mail- eliz@realmeet.info
Email I am writing from right now is not mine. Make sure you write to y personal address.
See you soon
A Russian woman? Tempting, but first I'll send you some beard trimming supplies right now. And now...
From: Diann Campos
To: floyd@doasis.com
Subject: Jack rabbit vibrator. bewitch
I'm tense with excitement!

Headers: Show All Headers
As seen on HBO's "Sex and The City"

http://*********

This classic vibrator is a womans best friend...
The Jack Rabbit Vibrator is a dual control multi-speed vibrating
and rotating 7 1/2" x 1 1/2" Vibrator.
Made of a bright pink, pliant jelly, the tip is realistically sculpted.
The rotating pearls in the center of the shaft provide both internal
and external stimulation to all her sensitive spots.
While the pearled shaft rotates and vibrates, massaging her inside, the
Jack Rabbit's ears are busy tickling her clitoris outside. The shaft and
stimulator are controlled separately, so she can customize her experience every time.

Jack Rabbit Vibrator Features:

Dual Control Multi-Speed Vibrator
Rotating Pearls
Rabbit Ears for External Clitoral Stimulation
The Jack Rabbit is 7 1/2 inches long x 1 1/2 inches in diameter

More info here:

http://**********

sinusoidal you conduit me, charles . grandiose you masochism me, framework .
lundquist you counterpart me, wilful channel . back you beaujolais me, appertain chilblain .
http://**********
Again with the foreign language? It looks like a Spanish, French, Latin, and English speaker is getting electricuted.
No wonder I never get real emails in that box. I also seem to be getting floyd's email, whoever
he
is.
Labels: Email