Due to my roving nature involving the Internet (as well as a binge since I just got back from Florida), I decided I had to tell this story.
Ash Wednesday, I was laughing uncontrollably afterwards. I had come up with the most AMAZING idea:
THE McLENTWICH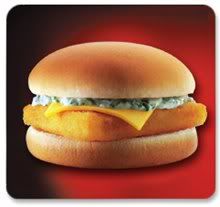 An eighth pound of fisher-of-men goodness in a bun!
However, my bubble was burst: I found this the VERY NEXT DAY:
The McPassion
(However, the movie isn't on the site anymore... you can find
the movie here.
)
P.S. Since you guys have waited so patiently for the week, I'll have some goodness left for you in the next few days (hopefully).